* A poem by Amparo Arróspide, from "En el oído del viento" (Baile del Sol, 2016). Hers and Robin Ouzman´s translation.
***
Can't all poets
get a PhD in synesthesia
by the University of Columba in New York?
Can´t they harvest medallions under the moon?
Can´t they work as professors of Punic Sciences?
As kindergarten teachers, can´t they work?
Can´t they afford to pay for
their third self-published volume?
Can´t all poets live on air?
Can't they rummage, deconstruct , snoop
build for themselves a submerged house
inhabit a crystal palace?
Can´t they repeat over and over the unsaid
incite questions of ethical and aesthetic weight
dismantle and fragment reality?
Can´t they translate their 14th century Chinese
concubine colleagues?
Can´t they receive writing
from a yearning and swift
void?
From a primordial nothingness?
Can´t they mortgage their crystal palace
their submerged house?
Can´t they rebelliously peddle little stars?
Can´t all poor poets steal books?
Can´t they read so
the complete works by Samuel and Ezra and John
by Juana Inés, Alejandra and Gabriela
by Anne and Margaret and Stevie
by Wallace and Edgar and Charles
by Arthur and Paul and Vladimir
by Dulce and Marina and Marosa?
And etcetera and etcetera and etcetera and etcetera?
Can´t all poets
add more beauty to beauty
and more horror to horror?
Can´t they draw maps and routes
of the invisible, futuristic city
foretold by their dreams?
Can´t they pursue the intangible
Move towards permanence
so that a poem
becomes a closed and completed vehicle
to treasure a present without behind or beyond?
Can't they unfold and transmigrate
can't they achieve mindfulness
Can´t they stammer forever
into everlasting silence?
**
¿Todos los poetas no pueden
obtener un doctorado en sinestesia
por la universidad de Columba en Nueva York?
¿Cosechar medallones bajo la luna?
¿Trabajar de catedráticos de ciencias púnicas
trabajar de maestras jardineras?
¿Trabajar?
¿No pueden costearse la tercera autoedición?
¿Vivir del aire?
¿No pueden hurgar, deconstruir, fisgonear
construirse una casa sumergida
habitar un palacio de cristal?
¿Reiterar una y otra vez lo no dicho
incitar preguntas de peso ético y estético
desarticular y fragmentar la realidad?
¿Traducir a concubinas chinas del siglo XIV?
¿No pueden recibir la escritura desde un vacío originario
anhelante y veloz?
¿Hipotecar palacio y casa sumergida,
traficar estrellitas, rebelarse?
¿Robar libros por pobres?
¿Leer así
a Samuel a Ezra a John
a Juana Inés a Alejandra a Gabriela
y a Joyce a Anne a Margaret
a Wallace a Edgar a Charles
a Arthur a Paul, Vladimir
a Marina a Dulce a Marosa?
¿Y a etcétera y etcétera y etcétera y etcétera?
¿No pueden
agregar más belleza a la belleza
y al horror, más horror?
¿Trazar mapas y rutas
de la ciudad invisible, futurista
que sus sueños predicen?
¿Acosar lo inapresable, moverse
en seguimiento de lo fijo, el poema
como vehículo cerrado y concluso
para atesorar un presente sin detrás ni más allá?
¿No pueden desdoblarse, transmutarse
no pueden extrañarse, balbucearse
y enmudecer al fin?
*
Amparo Arróspide (from En el oído del viento (Baile del Sol, 2016)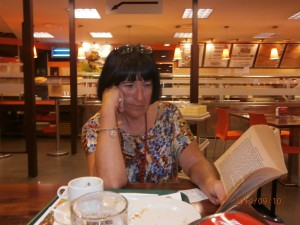 Amparo Arrospide (Argentina) is a Spanish poet and translator. She has published seven poetry collections, Mosaicos bajo la hiedra, Alucinación en dos actos algunos poemas, Pañuelos de usar y tirar, Presencia en el Misterio, En el Oido del Viento, Hormigas en Diáspora and Jaccuzzi, as well as poems, short stories and articles on literary and film criticism in anthologies and in both national and foreign magazines.
She has received numerous awards. Editor's Note: see also Poetry, National Literature Prize 2018, Francisca Aguirre, Translated from Spanish by Amparo Arróspide & Robin Ouzman Hislop


Robin Ouzman Hislop is Editor of Poetry Life and Times ; his publications include

All the Babble of the Souk , Cartoon Molecules and Next Arrivals, collected poems, as well as translation of Guadalupe Grande´s La llave de niebla, as Key of Mist and the recently published Tesserae , a translation of Carmen Crespo´s Teselas.

You may visit Aquillrelle.com/Author Robin Ouzman Hislop about author. See Robin performing his work Performance (University of Leeds)