This work comprises in an excerpt from the anthology on contemporary Spanish female poets entitled Las Diosas Blancas. Madrid, 1985. Copyright Ed. Ramon Buenaventura. Hiperion. This is an original and unpublished English version of the original poem written in Spanish. Translators Robin Ouzman Hislop and Amparo Arrospide would like to thank Casa del Traductor, in Tarazona and the British Literary Translation Association, East Anglia University Campus.
From this Spanish anthology –compiled by the well-known scholar and translator Mr. Ramón Buenaventura, whom we contacted earlier– a few selected authors were chosen for our joint translation work: Amalia Iglesias: Te buscare para decirte (I Will Find You To Tell You) , Ana Rossetti: Triunfo de Artemis sobre Volupta (Triumph Of Artemis Over Volupta) and Isolda (Isolda) , Blanca Andreu: Para Olga (For Olga) , Isla Correyero: Los Pajaros (Small Birds), Amparo Amoros: Midas (Midas) and Criaturas del gozo (Creatures Of Joy) , Rosalia Vallejo: Horno en llamarada (A Furnace In Flames) , Maria del Carmen Pallares: Sisargas (Sisargas), Margarita Arroyo: Era el mar lejos del mar ( It Was Sea Away From Sea).
We would like to thank Mr. Ramón Buenaventura and the above name poets, in advance, and let them rest assured that their work is protected by a legal Creative Commons Licence, by virtue of which the above named translators are willing to provide excerpts from their original translation work, provided that readers agree to use it under the terms of such licence. We strongly recommend reading the entire work and the poets', who have continued evolving during these decades.
For Olga
Girl of delicately golden tresses,
girl obsession of the virgin stork
with tufts of damask feathers
that splashed death,
of the crazy stork with wings
of golden strychnine
which flew off leaving you with a corporeal perfume,
a neat smell of lilacs, already golden and rude dreams.
Girl who obeyed the apostle scops owl
and the murky look of real eyes,
with puerile drawings of Selene and the rest.
Girl of non-existent concert,
girl of cruel sonatines and malevolent books by Tom Wolfe,
or witch lace to bandage wounded deer ulcers,
of fallow deer gazing from mystical knolls,
or places like that.
Pluperfect girl, girl we never were,
tell it now,
tell it now, you, now that it's so late,
spell out the sombre tempo,
spell me the tear
the purple silhouette of the mare,
the foal that lay at your feet waking up foam.
Abandoned recite the words of yesteryear,
shadow of Juan Ramón: Solitude, I am true to you.
Scornful recite the words of yesteryear,
but not that courtly verse,
don't talk of queens white as a lily,
snow and Joan burning
and interwoven melancholy
of dear Villon,
speak clear verbs where you can drink the saddest liquid,
jars of sea and relief, now that it is already so late,
raise your tiny voice and summon up the song:
tell life that I remember her,
I remember her.
This small death is definitely lost in a nascent forest,
the shoot of an arrested comet,
that nobody saves
young volcano of novice gust and bones
made of bird, eyelid and thinking wave
that no stella book
no book painted with Italien solar gold,
no book of lava
will seal for me.
And so death so many times written
becomes radiant,
and i can talk
of desire and the unseeing beam of the lighthouse,
of the chimerical corpse of the crew.
And so death
becomes the story
of that mute girl who hanged herself
with boreal harp's strings
because of nuptial poison on her tongue.
I definitely get lost cradling litters of rare epitaphs,
girl of golden tresses,
I will tell life that you remember her,
I will tell death that you remember her
that you remember their lines conjuring your shadow,
that you remember their habits and tempo solo,
bitter laurel, deep bramble, brazen error and sorrowful hordes,
while Ephesian cats are crying at my feet,
while lost silver cats
go curdling their ancestry in genealogical cypress and poplar,
I will tell life to remember you,
to remember me
now,
when I rise with loops and hair strings
up to the disaster of my head
up to the disaster of my twenty years,
up to the disaster, lammergeier light.
De una niña de provincias que se vino a vivir en un Chagall, 1980
Para Olga
Niña de greyes delicadamente doradas,
niña obsesión de la cigüeña virgen
con mechones de plumas de damasco
que salpicaban muerte,
de la cigüeña loca con alones
de estricnina dorada
que viajaba dejándote un corpóreo perfume,
un pulcro olor a lilas, ya dorados y rudos sueños.
Niña que obedeció al autillo apóstol
y a la mirada turbia de los ojos reales,
con pueriles dibujos de Selene y demás.
Niña de inexistente concierto,
niña de crueles sonatinas y malévolos libros de Tom Wolfe,
o de encajes de brujas para vendar las llagas de los corzos heridos,
de ciervos vulnerados asomados en los oteros místicos,
en los sitios así.
Niña pluscuamperfecta, niña que nunca fuimos,
dilo ahora,
dilo ahora tú, ahora que es tan tarde,
pronuncia el torvo adagio,
pronúnciame la lágrima,
la silueta morada de la yegua,
la del potro que se tendió a tus pies despertando la espuma.
Declama abandonada las palabras de antaño,
sombra de Juan Ramón: Soledad, te soy fiel.
Declama desdeñosa las palabras de antaño,
pero no aquella estrofa cortesana,
no hables de reinas blancas como un lirio,
nieves y Juana ardiendo,
y la melancolía entretejida
del querido Villon,
sino los verbos claros donde poder beber el líquido más triste,
jarros de mar y alivio, ahora que ya es tarde,
alza párvula voz y eco albacea y canta:
Dile a la vida que la recuerdo,
que la recuerdo.
Definitivamente se extravía en un bosque naciente esta muerte pequeña,
el brote del cometa detenido,
esto que nadie salva,
joven volcán de huesos y ráfaga novicia
hecha de pájaro y de párpado y de ola pensante
que ningún libro estela,
ningún libro estofado de oro solar de Italia,
ningún libro de lava
viene a sellar por mí.
Y así la muerte tantas veces escrita
se me vuelve radiante,
y puedo hablar
del deseo y del lacre rubio y ciego en los faros,
del cadáver quimera de la tripulación.
Y así la muerte
se convierte en historia
de aquella niña muda que se ahorcó
con las cuerdas boreales del arpa
porque tenía en la lengua un veneno nupcial.
Definitivamente me extravío acunando camadas de raros epitafios,
niña de grey dorada,
diré a la vida que la recuerdas,
diré a la muerte que la recuerdas,
que recuerdas sus líneas conjurando tu sombra,
que recuerdas sus hábitos y su carácter solo,
su laurel ácido, su profunda zarza, su descarado error y sus hordas dolidas,
mientras gatos efesios van llorando a mis pies,
mientras gatas perdidas plateadas
van cuajando su alcurnia en ciprés genealógico y en álamo,
diré a la vida que te recuerde,
que me recuerde,
ahora,
cuando me alzo con cuerdas capilares y bucles
hasta el desastre de mi cabeza,
hasta el desastre de mis veinte años,
hasta el desastre, luz quebrantahuesos.
"De una niña de provincias que se vino a vivir en un Chagall"1980
AUTHOR: BLANCA ANDREU (1959)
Bibliography:
– De una niña de provincias que se vino a vivir en un Chagall (awarded the 1980 Adonais International Poetry Prize) (Ediciones Rialp, Madrid, 1981).
– Báculo de Babel (awarded the Fernando Rielo International Poetry Prize) (Hiperión, Madrid, 1983).
– Elphistone (Visor Libros, Madrid, 1988)
– El sueño oscuro: (poesía reunida, 1980-1989) (Hiperión, Madrid, 1994).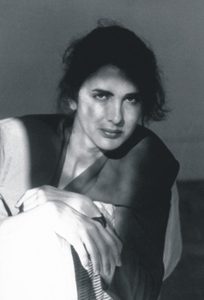 Blanca Andreu (born 1959 A Coruña) is a Spanish poet. She grew up in Orihuela, where her family still resides, and attended El Colegio de Jesus-Maria de San Agustin, followed by studies in philology in Murcia. At age 20, she moved to Madrid without formally completing her education. Here, she met Francisco Umbral, who introduced her to the literati of the city.
In 1980, she was awarded the Premio Adonáis de Poesía for her work entitled, De una niña de provincias que se vino a vivir en un Chagall. Her use of surrealism is considered the beginning of the Post-Modern Generation. Her later work has tried to shy away from the surrealist tendencies of her early pieces.[2]
In 1985, she married novelist Juan Benet. After he died in 1993, she returned to La Coruña where she now lives a semi-reclusive life.
Awards
1980: Premio Adonáis de Poesía
1981: Premio de Cuentos Gabriel Miró
1982: Premio Mundial de Poesía Mística, Fernando Rielo
1982: Premio Ícaro de Literatura
2001: Premio Internacional de Poesía Laureà Mela
Translators:
Amparo Arrospide (Argentina) is a poet and translator. She has published seven poetry collections, Mosaicos bajo la hiedra, Alucinación en dos actos y algunos poemas, Pañuelos de usar y tirar, Presencia en el Misterio, En el Oido del Viento, Hormigas en Diáspora , Jaccuzzi, and Valle Tiétar, as well as poems, short stories and articles on literary and film criticism in anthologies and in both national and foreign magazines. She has received numerous awards.
Robin Ouzman Hislop is Editor of Poetry Life and Times ; his publications include
All the Babble of the Souk , Cartoon Molecules and Next Arrivals, collected poems, as well as translation of Guadalupe Grande´s La llave de niebla, as Key of Mist and the recently published Tesserae , a translation of Carmen Crespo´s Teselas.
You may visit Aquillrelle.com/Author Robin Ouzman Hislop about author. See Robin performing his work Performance (University of Leeds)
Editor's Note: see also Poetry, National Literature Prize 2018, Francisca Aguirre, Translated from Spanish by Amparo Arróspide & Robin Ouzman Hislop