Francisca Aguirre, Premio Nacional de las Letras 2018 El jurado la ha elegido "por estar su poesía (la más machadiana de la generación del medio siglo) entre la desolación y la clarividencia, la lucidez y el dolor"
Francisca Aguirre, National Literature Prize 2018. The jury chose it "because its poetry is (the most Machadian* of the generation of the half century) between desolation and clairvoyance, lucidity and pain"
* In the tradition of Antonio Machado
https://elpais.com/cultura/2018/11/13
Francisca Aguirre was born in 1930 in Alicante, Spain and died in Madrid in 2019, she had fled with her family to France at the end of the Spanish Civil War, where they lived in political exile. When the Germans invaded Paris in 1942, her family was forced to return to Spain, where her father, painter Lorenzo Aguirre, was subsequently murdered by Francisco Franco's regime.
Aguirre published Ítaca (1972), currently available in English (Ithaca [2004]), when she was 42 years old. Her work has garnered much critical success, winning the Leopoldo Panero, Premio Ciudad de Irún, and Premio Galliana, among other literary prizes. Aguirre was married to the poet Félix Grande and is the mother of poet Guadalupe Grande.
Excerpts from "NANAS PARA DORMIR DESPERDICIOS"
LULLABIES TO LULL THROWN AWAYS
by FRANCISCA AGUIRRE
NANA DE LAS SOBRAS A Esperanza y Manuel Rico Vaya
canción la de las sobras, eso sí
                      que era una nana para dormir el hambre.
Vaya canción aquella
                      que cantaba mi abuela con aquella voz
que era la voz de la misericordia
disfrazada de voz angelical.
                             Porque la voz de mi abuela
nos cantaba la canción de las sobras.
                             Y nosotras, que no conocíamos el pan,
cantábamos con ella que
                             las sobras de pan eran sagradas,
las sobras de pan nunca se tiran.

Siempre recordaré su hermosa voz
cantando aquella nana mientras el hambre nos dormía.
                                         **
LULLABY FOR LEFTOVERS                                                          To  Esperanza and Manuel Rico
Well, a leftovers song,


                    that truly was a lullaby to lull hunger to sleep.


Wow, that song 




                    my grandmother sang with a voice


that was the voice of mercy


disguised as the voice of an angel.


                              Because my grandmother´s voice


sang for us the leftovers song.


                              And we, who did not know bread,


sang together with her that


                              bread leftovers were holy,


bread leftovers shall never be thrown away.
I will always remember her beautiful voice


singing that lullaby while hunger lulled us to sleep.
**
NANA DE LAS HOJAS CAÍDAS
A Marián Hierro
Casi todo lo que se pierde tiene música,
una música oculta, inolvidable.
Pero las hojas, esas criaturas parlanchinas
que son la voz de nuestros árboles,
tienen, como la luz, el agua y las libélulas
una nana secreta y soñadora.
Lo que se pierde, siempre nos deja
un rastro misterioso y cantarín.
Las hojas verdes o doradas
cantan su desamparo mientras juegan al corro.
Cantan mientras los árboles las llaman
como llaman las madres a sus hijos
sabiendo que es inútil, que han crecido
y que se han ido a recorrer el mundo.
****
LULLABY FOR FALLEN LEAVES
To Marián Hierro
Almost everything which is lost has a music,
a hidden, unforgettable music.
But leaves, those chattering creatures
who are the voices of our trees
have — like light, water and dragonflies —
a secret dreamy lullaby.
That which is lost to us, always leaves
the mysterious trace of its song.
Green or golden leaves
sing of their neglect as they dance their ring a ring of roses.
They sing while trees call to them
as mothers do calling their children
knowing it is futile, as they have grown up
and left to travel the world over.
**
NANA DE LAS CARTAS VIEJAS
Tienen el olor desvalido del abandono
y el tono macilento del silencio.
Son desperdicios de la memoria, residuos de dolor,
y hay que cantarles muy bajito
para que no despierten de su letargo.
En ocasiones las manos se tropiezan con ellas
y el pulso se acelera
porque notamos que las palabras
como si fueran mariposas
quieren bailar delante de nosotros
y volver a contarnos el secreto
que duerme entre sus páginas.
Son las abandonadas,
los residuos de un tiempo de desdicha,
relatan pormenores de un combate
y al rozarlas oímos el tristísimo andar
de los presos en los penales.
**
LULLABY FOR OLD LETTERS
They give off the helpless smell of neglectfulness
and the emaciated tone of silence.
They are memory´s cast offs, residues of pain
and should be sung to in a low croon
so as not to awaken them from their lethargy.
Sometimes your hands chance upon them
and your pulse races
because we realize that words
wish to dance before us
as if they were butterflies
and tell us again the secret
sleeping inside their pages.
They are the neglected,
the remnants of unhappy times,
recounting the details of a struggle
and as we brush them we hear the saddest steps
of prisoners in jails.
**

NANA DEL HUMO
La nana del humo tiene muchos detractores,
casi nadie quiere cantarla.
Muchos dicen que el humo los ahoga,
otros piensan que eso de dormir al humo
no les da buena espina,
que tiene algo de gafe.
El humo no resulta de fiar:
en cuanto asoma su perfil oscuro
todo son malas conjeturas:
se nos está quemando el bosque,
aquella casa debe de estar ardiendo.
El humo es un extraño desperdicio,
tiene muy mala prensa.
Es un abandonado,
es un incomprendido;
casi nadie recuerda que el humo es un vocero,
un triste avisador de lo que se nos avecina.
Y por eso, cuando lo escucho vocear con impotencia
yo le canto la nana del silencio
para que no se sienta solo.
**
LULLABY FOR SMOKE
The lullaby for smoke doesn´t get many supporters,
almost nobody wants to sing its song.
Many say smoke stifles them,
others think to lull smoke to sleep
makes them queasy,
that it´s a bit of a jinx.
Smoke is not trustworthy:
as soon as it rears its dark head
it conjures up conjectures
— a forest fire,
a house burning down.
Smoke is a weird remain,
it´s got bad reports.
It´s a reject,
it´s a misunderstood thing;
almost nobody remembers smoke is a herald,
a sad forwarner of what looms over us.
That´s why, when I hear it calling out helplessly,
I sing to it the lullaby for silence
so that it doesn´t feel so lonely.
***
Translated by Amparo Arrospíde & Robin Ouzman Hislop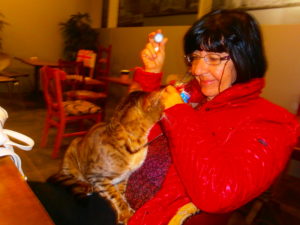 Amparo Arróspide (Argentina) has published five poetry collections: Presencia en el Misterio, Mosaicos bajo la hiedra, Alucinación en dos actos y algunos poemas, Pañuelos de usar y tirar and En el oído del viento, as well as poems, short stories and articles on literature and films in anthologies and international magazines. She has translated authors such as Francisca Aguirre, Javier Díaz Gil, Luis Fores and José Antonio Pamies into English, together with Robin Ouzman Hislop, who she worked with for a period as co-editor of Poetry Life and Times, at Artvilla.com a Webzine. Her translations into Spanish of Margaret Atwood (Morning in the Burned House), James Stephens (Irish Fairy Tales) and Mia Couto (Vinte e Zinco) are in the course of being published, as well as her two poetry collections Hormigas en diáspora and Jacuzzi. She takes part in festivals, recently Transforming with Poetry (Leeds) and Centro de Poesía José Hierro (Getafe).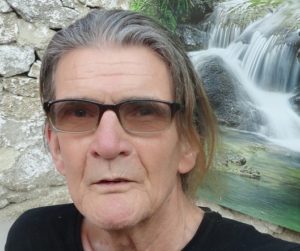 https://www.facebook.com/PoetryLifeTimes
https://www.twitter.com/PoetryLifeTimes
Robin Ouzman Hislop is Editor of Poetry Life and Times ; at Artvilla.com his publications include
All the Babble of the Souk , Cartoon Molecules, Next Arrivals, Collected Poems, and the recently published Moon Selected Audio Textual Poems, as well as translation of Guadalupe Grande´s La llave de niebla, as Key of Mist and the recently published Tesserae , a translation of Carmen Crespo´s Teselas.
You may visit Aquillrelle.com/Author Robin Ouzman Hislop about author. See Robin performing his work Performance (University of Leeds)