Six poems from EL PLAZO (THE DEADLINE)
16.
Desapareceríamos todos si las abejas murieran. Por ahora somos cuatro: dos adultos y dos crías que cargar en brazos en caso necesario. Pronostican una marcha tranquila, aunque el zumbido nos alcance en las próximas jornadas. Como alimento llevamos la oscura miel de la familia, indigesta, dulzona. Los nuevos evitamos derramarla, ya que una gota perdida trae la maldición de confundir las criaturas propias. Sin olerla llegó el animalillo de nombre equivocado, en medio del camino.
16.
Were bees to die, we would all disappear. Right now we are just four: two adults and two cubs to carry in our arms if necessary. In spite of the buzz reaching us in the next few days, a peaceful march is predicted. We carry as food for the family our dark sickly sweet indigestible honey. As the newly arrived we take care not to spill a drop as a drop lost would curse us into confusing our own offspring. Not smelling the honey, a little animal with a wrong name appeared into the middle of the road.
17.
Volvemos a casa con la cría y el espacio se ha hecho redondo. Las elásticas paredes ceden a nuestras voces. Parece que el hueco estaba listo desde hace meses, pues cada objeto ocupa su espacio densamente. Sólo a la llegada nos percatamos. Despacio penetramos el aire, conseguimos traspasarlo para cobijar a los nuestros.
17.
We return home with the cub into a space that has become round. The elastic walls recede with our voices. It seems the vacuity had been prepared for months, as each object occupies its own dense space. Only after arrival do we realize it as we slowly penetrate the air and manage to cross it to find a shelter for our own.
18.
No rodará, no caerá al vacío. No lo abrazará el aire, continente escueto al principio, península improvisada, isla final. Como en los trucos de magia, existen hilos invisibles, saliva que me ata a tres cuerpos y hace de mí una marioneta ciega.
18.
It will not roll nor fall into a void nor embrace the air, a bare continent at the beginning, an improvised peninsula, an island at the end. As with tricks of magic, invisible threads exist, saliva that ties me to three bodies like a blind marionette.
19.
Cada uno aguarda su turno para respirar. No nos vemos siquiera. Ocupamos salas de cristal con cuerpos transparentes, reflejados al azar. La gran mentira, el espejismo del aire. Mientras, las crías dormitan en la madriguera, repleta de oxígeno su sangre recién nacida.
19.
We each wait for our turn to breathe. We can't even see each other. Our transparent bodies occupy glass rooms, randomly reflected. The mirage of air, a great lie. Meanwhile, the cubs are dozing snuggled close, their newborn blood full of oxygen.
20.
Escucha a su madre leer un cuento, la historia que lo espera al otro lado. Aún lo separan unos centímetros del designio. Un jabalí descompuesto en el bosque recuerda a ese niño alumbrado a la muerte. El deseo repetido de luna en luna, la tristeza rojiza del vacío. Mujer estéril que sueña al hijo con solo apartar la mano a tiempo.
20.
He listens as his mother reads a story, a story that waits for him from the other side. Yet still a few centimeters separate him from his fate. A rotting boar in the forest resembles the birth of the child born to death. The same desire passed from moon to moon, the reddish sadness of emptiness. A barren woman who dreams her son with only the withdrawal of her hand on time.
21.
Encontraste el sedal entre la arena, lejos del lugar del sacrificio. Casi caíste, y con todo tu cuerpo –uñas, árbol, océano– preguntabas qué era ese hilo. Te dimos palabras precisas, las más adecuadas seguramente. Nos pierde la exactitud. Aún así, siguen muriendo los peces de asfixia, con ese mismo sedal de tus dedos.
21.
You found the fishing line in the sand, far from the place of sacrifice. You almost fell down, and with your whole body – nails, tree, ocean – asked what was that thread. We replied with precise words, surely the most adequate. Exactitude is our undoing. But still fish continue to die of suffocation, with that same thread from your fingers.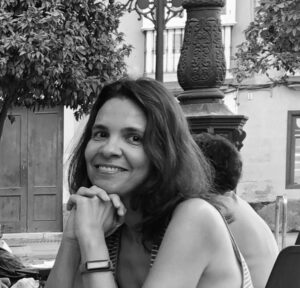 Olga Muñoz Carrasco is author of the books: La caja de música (Madrid, Fundación Inquietudes/Asociación Poética Caudal, 2011), El plazo (Madrid, Amargord, 2012), Cada palabra una ceniza blanca (Valencia, Ejemplar Único, 2013), Cráter, danza (Barcelona, Calambur, 2016), 15 Filos (Madrid, Cartonera del escorpión azul, 2021), Tapiz rojo con pájaros (Madrid, Bala Perdida, 2021) and Filo (unpublished). Her editorial work is linked to the Genialogías collection at the Tigres de Papel publishing house and the Lengua de Agua collective. She completed her doctoral studies in Philology in Madrid, USA and Peru, and is currently a professor and researcher at Saint Louis University (Madrid Campus). In Lima she published her monograph Sigiloso desvelo- The poetry of Blanca Varela (Pontifical Catholic University of Peru, 2007). She prepared Blanca Varela's anthology Y todo debe ser mentira (Barcelona, Galaxia Gutenberg, 2020) and in France she has just published her study Palabras para un canto. La escritura en espiral de Blanca Varela (Paris, Belin Éducation/Humensis, 2022). In recent years, her works have appeared in the field of Spanish-American and Spanish poetry. She is part of the research project "El impacto de la guerra civil española en la vida intelectual de Hispanoamérica" ("The impact of the Spanish civil war on the intellectual life of Latin America") , which led to her book Perú y la guerra civil española. La voz de los intelecturales (Madrid, Calambur, 2013). She also teaches at the José Hierro Foundation (Madrid) and at the Diploma Course on Appreciation and Poetic Studies, Caracas (Venezuela).


Amparo Arróspide (born in Buenos Aires) is an M.Phil. by the University of Salford. As well as poems, short stories and articles on literature and films in anthologies and international magazines, she has published five poetry collections: Presencia en el Misterio, Mosaicos bajo la hiedra, Alucinación en dos actos y algunos poemas, Pañuelos de usar y tirar and En el oído del viento. The latter is part of a trilogy together with Jacuzzi and Hormigas en diaspora, which are in the course of being published. In 2010 she acted as a co-editor of webzine Poetry Life Times, where many of her translations of Spanish poems have appeared, she has translated authors such as Margaret Atwood, Stevie Smith and James Stephens into Spanish, and others such as Guadalupe Grande, Ángel Minaya, Francisca Aguirre, Carmen Crespo, Javier Díaz Gil into English. She takes part in poetry festivals, recently Centro de Poesía José Hierro (Getafe).


Robin Ouzman Hislop is Editor of Poetry Life and Times his publications include All the Babble of the Souk and Cartoon Molecules collected poems and Key of Mist the recently published Tesserae translations from Spanish poets Guadalupe Grande and Carmen Crespo visit Aquillrelle.com/Author Robin Ouzman Hislop about author. See Robin performing his work Performance (University of Leeds) .